Article author • Rick Tucker
Thanks to the following winkers who contributed information used in this article via email correspondence:
Richard Ackland
Sarah Knight
Stew Sage
Article Status: Preliminary Draft • Not Verified • Do Not Quote
As of November 2022, research remains ongoing to identify verifiable sources to determine whether this purported 1960 Royal Match actually took place. So far, no contemporary news articles nor retrospective recollections from participants have been found. The only evidence supporting this match is a digitized image of the match program, which is shown in this article.
H.R.H. The Duke of Edinburgh, Prince Phillip, was instrumental in establishing the popularity of tiddlywinks in the UK and promulgating its ongoing success. He sponsored several royal matches: in 1958 (the Goons vs. the Cambridge University Tiddlywinks Club (CUTwC), by far the best known and the most pivotal and incredibly impactful match), 1959 (the Empress Club vs. CUTwC), and yet another in 2008 (the Savage Club vs. CUTwC) that celebrated the 50th anniversary of the first royal tiddlywinks match in 1958.
A digitized image of a printed scorecard (with signatures but no scores) has come to light that suggests that a 1960 royal tiddlywinks match was planned and may have occurred. The scorecard (below) states that the match was to have taken place during the evening of Friday, 1 April 1960 (yes, April Fool's Day). Per the scorecard, Prince Philip asked the Lord's Taverners to serve as his royal champions to compete against CUTwC. At the time, Prince Philip was the titular President of the Lord's Taverners organization during 1960–1961.
The Lord's Taverners was founded at the Tavern at the esteemed Lord's Cricket Ground in London. The organization promotes youth participation in the game of cricket.
Unfortunately, little is known about this royal match, including whether the event actually took place and winks games were played.
Here's what we know so far!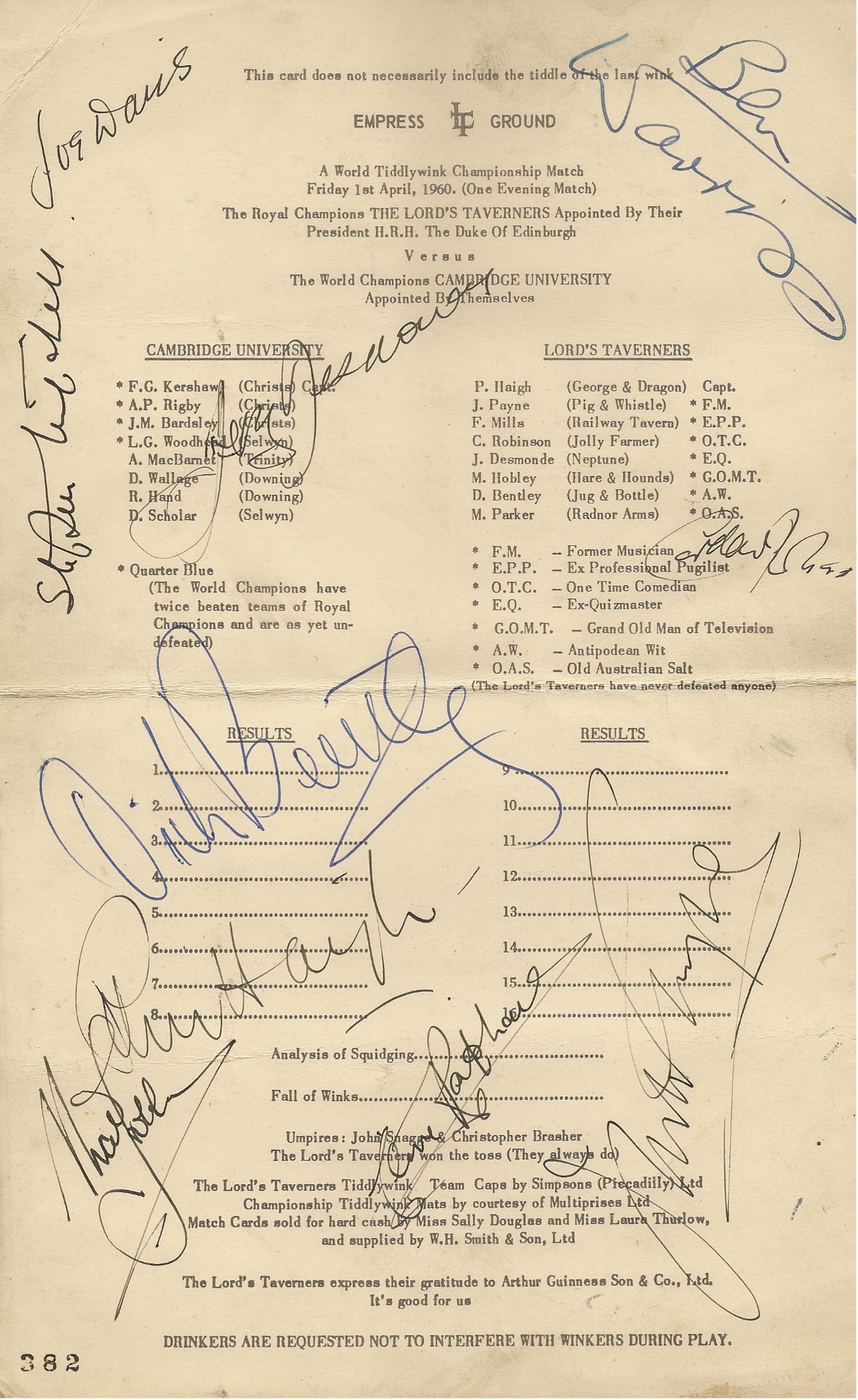 The following two people who signed this scorecard program were not listed as winkers on the program:
Ben Warriss,  a comedian who played the "straight man" as part of the comedy duo "Jewel & Warriss"
Joe Davis,  billiards/snooker player